WHY A LOGO IS IMPORTANT
FOR YOUR BRAND
More than ever, companies find themselves racing against consumers' shortened attention spans. As a result, they have turned their focus to creating newer, more memorable logos. No company can spend an unlimited amount of time convincing potential customers that their products are great. A logo, on the other hand, can quickly grab viewers' attention and communicate a company's core values uniquely. More and more, consumers are judging businesses by their appearance as much as by what they do.
With this new marketing model, businesses of all sizes must spend more resources creating original ideas. Major businesses will shell out millions on a logo designer to craft their perfect image, but most small companies don't have endless amounts to spend. By comprehending how each aspect of a logo contributes to your success, you can stay one step ahead of the competition.
These are the reasons why your logo design is vital to your company's brand:
"A strong logo is the beginning of your company's branding
and conveys your business's vision."
#1. Makes a Great First Impression
A logo is a company's first introduction to consumers. While this is not the only factor consumers consider when shopping, a logo can be an appealing invitation to learn more. Well-designed logos tell customers about a company with colors, shapes, and different fonts. Moreover, a visually striking image can intrigue customers, leaving them curious about the company behind a bold design.
"Most viewers take less than three seconds to scan
a full web-page and form their first impressions.
The next thing they look for?  A company's logo."
#2. Can Become Iconic and Memorable
The most well-known companies in the world all share one thing in common – an instantly recognizable logo. Whether it's Apple's iconic fruit, or Nike's unmistakable swoop, logos can become synonymous with the brand they represent. It also works the same way around.
A company with poor design and branding can become associated with their worst efforts, making it hard to shake the negative image. Strong logo design can help guarantee your company is always remembered in the best way possible.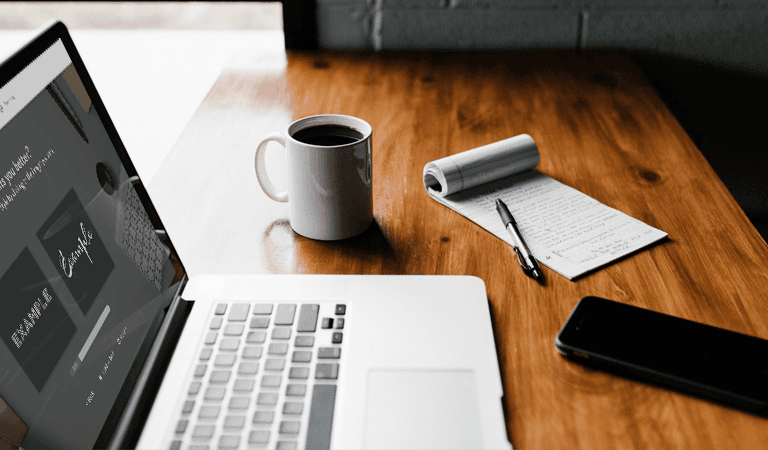 #3. It's The Foundation of Your Brand Identity
Logo design is only a part of a company's overall branding. However, companies usually begin with this step to determine company colors, tone, fonts, and overall brand feeling. When crafting your company's new logo, guarantee that it can be the foundation of a long-term branding campaign with excellent design and forward thinking.
#4. Communicates Your Company's Values
For some, logos are simply pretty images with nice colors. However, the psychology behind logo design goes much deeper. A well-designed company logo can communicate everything from the company's background (professional, relaxed, fun) to their mission (entertainment, efficiency, and more) with decisions that can be as simple as choosing the right colors or the angle of the font.
#5. Defines Your Brand Personality
In the end, a logo is always the first association customers make with a company's brand. Ignoring the design aspect to cut corners, save money, and shorten the design time frame can have more expensive consequences down the line. On the other hand, a memorable logo can serve as a springboard that defines the personality of your company in the eyes of your customers. 
Now it's Your Turn
Creating a logo is a vital part of your company's marketing efforts. To meet this need, Tailor brands has created a feature rich design suite devoted to building your logo and brand. Our logo maker and branding toolkit can help you create a unique and effective image to represent your company's best qualities.
Get started today with our logo designer tool!
Get Better Branding Solutions
Our Premium service gives you full access to our
logo designer, social posts and over 20 additional branding tools
that will change the way your business is seen online.