How to Design a Logo
They say a picture is worth a thousand words, and this is also true of a logo.
You see, a logo is more than just fancy fonts, shapes and colors it conveys your brand personality, its values, and ideals. That is why companies spend thousands on logo design.
Designing a logo is a mixture of science, art, and psychology and when you get the combination right, you will create a logo that speaks to your target audience, builds trust, and acts as an ambassador for your brand.So how do you design a logo?
Keep reading, and we will share some top tips to help guide you.
"A style that fits your company's vision
will better communicate your company's
values to your customers"
1 – Understand Your Market
Before you start designing your logo, you should have a clear understanding of your target market.
Depending on the niche you are in, you might have more or less freedom in the choices you make. For example, a Law Firm probably wouldn't use lots of bright colors and funky fonts.
A logo for a kids-oriented brand probably wouldn't use a dark, minimalistic logo design.
Remember, your logo is one of the first touch points that people will have with your brand; you want to ensure that it resonates with your target audience.
2 – Get the Inspirational Juices Flowing
Before you put pencil to paper get the creative juices flowing. Use sites like Pinterest, Behance, and Dribble to get design inspiration.
You should also look to your competitors for inspiration – be inspired but don't copy.
During your research create a file of the designs you gravitate towards and then try to identify why you like them. Maybe it's specific colors, fonts, and shapes or the feeling invoked, more than likely it will be a mixture of both.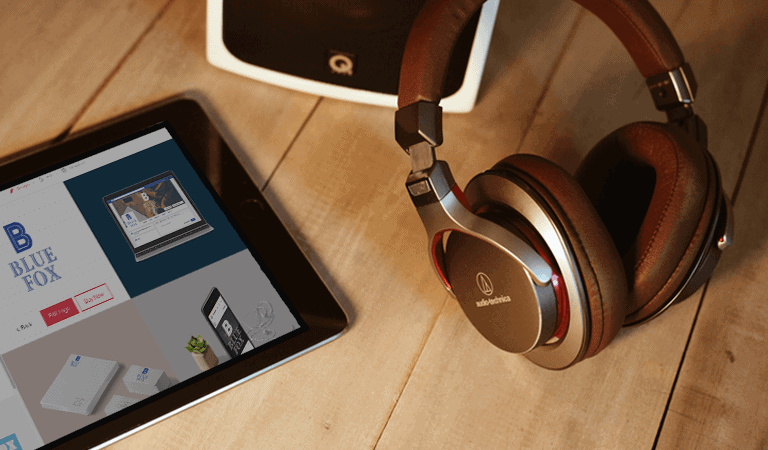 3 – Choose an Appropriate Font
You might not think it, but a font can say a lot about your brand personality. Fonts can be broken down into a few families.
Some of the popular font families used in logo design are.
Serif Fonts –
Serif fonts are probably the more well-known and widely used fonts in logo design. The get their name from the extended "fine lines" at the end of strokes. Serif fonts are elegant, luxurious, Sophisticated.
Famous brands that use serif fonts are Tiffany & Co, Giorgio Armani, Burberry

Sans Serif Fonts –
Serif is one of the most commonly used font categories in logo design. Serif fonts are clean, simple, neutral and contemporary.
Famous brands that use sans-serif fonts in their logo are Google, Facebook, and Microsoft.

Script Fonts –
Script fonts as the name suggests have a handwritten, decorative look. Script fonts express creativity and emotion.
Famous brands that use script fonts are Coca-Cola, Ford, Instagram, and Pinterest.

Display Fonts –
Display fonts are used for headings and large displays, and for larger than life logos. Display fonts are fun, unique and creative.
Famous brands that use display fonts are Lego, Disney, and Hasbro.
4 – Decide on a Logo Type
Although there are limitless design options, there are only seven types of logo
Letter marks (Monograms)–
Letter marks are font-based logos that use a brands initials instead of a full written name. They make sense to use when a business name is very long. They can also add an air of coolness to a brand.
Some big brands that use letter marks are HSBC bank, IBM, HBO, CNN, and HP.
Letter marks are probably not the best choice if your brand is new unless you can have the time and money to build the brand recognition and letter association.
Icons (Brand Marks)–
Brand mark logos use an icon or symbol to represent a brand the design focus is on an image as opposed to the written name. These types of iconic logos work best for global brands.
Famous brand mark designs are McDonald's golden arches, the Apple logo, the Twitter logo and the Nike logo.
With brand mark logos the symbol/image can be real-world based like the Blue Bird in the Twitter logo or abstract like the color combinations in the Pepsi logo.
Combination Marks (Icon & Text)–
Combination marks use both an icon and text. According to Tastyplacement.com, 56% of the top 100 companies use this form of logo design.
Famous combination mark logos are Adidas, Amazon, Nike, The North Face
Combination mark logos build brand recognition for both the written name and the associated icon, which allows brands to switch to just a brand mark as they gain popularity.
Mascots–
Mascot logos use characters to represent the brand. They work well for brands that are fun, family and children orientated. They are popular with sports and food brands.
Famous mascot logos are KFC's Colonel and Wendy's and Planter's Mr. Peanut.
Emblems – 
Emblem logos use a mixture of word marks and icons (pictorial) wrapped in a container to give a badge or seal look. They are popular with car makers, sports, and food brands.
Famous emblem brands are Starbucks, Harley Davidson, BMW
5 – Choose a Logo Style
Just like with color the design style of your logo conveys the personality of your brand.
Classic–
Classic designs never go out of fashion. They are timeless, using simple fonts and color schemes. A classic style portrays a sense of reliability and trust.
Vintage–
Vintage logos have a retro, sometimes rugged and worn look, they are popular with clothing labels. They work well for outdoor, clothes and food brands.
Fun–
Playful/fun logos use bright colors, and playful icons, this type of logo design work well for brands who want to convey a fun side, appealing to our inner child.
Hand-Illustrated-
Similar to vintage style logos, hand-illustrated fonts have a wholesome, earthy, and natural vibe. They are perfect for hand-made product brands, food brands, and clothes brands
Minimal –
Minimal logos as the name suggests are free of clutter with pared-back design elements – thin fonts, and monochromatic. This type of logo conveys a more serious brand personality, sophisticated and contemporary.
6 – Select Colors To Reflect Brand Personality
The use of colors in a logo tells a story about the personality and identity of your brand. Beyond this, colors also have a psychological effect, impacting emotions and behaviors.
Red – Excitement, passion, anger, attention-grabbing
Orange – Energetic, invigorating, playful, warm and cozy
Yellow – Friendly, cheerful, youthful, creative, motivational
Green – Natural, wholesome, organic, healthy
Blue – Calming, trustworthy, mature, soothing
Brown – Handmade, natural, vintage, earthy, masculine
Black – Luxurious, sophisticated, masculine, sleek
If combining colors, ensure they complement each other. You can use color palates to see what works and what doesn't.
7 – Create Multiple Iterations
Once you have nailed your final design, create multiple variations, play with font from the same family, icon positions, and colors.
Try and come up with a least five iterations and then ask friends and family for feedback and see if there is a clear winner. Ultimately the final decision lies with you, but feedback is always good.
And That's a Wrap-up…
Designing a logo for yourself takes time, but once you settle on a final design, you have laid the foundation for all your future branding requirement – business cards, presentations, brand books and of course your website.
Remember, your logo is more than just colors, fonts and shapes. Your final design should not just look cool it should also speak to you and the brand image you want to cultivate.
Don't Have Time to Create a Logo?
 At Tailor Brands we understand that designing a logo takes time, time that you could be spending growing your business, that's why our online logo maker does the heavy lifting for you. Our smart logo maker take's its lead from you and will design the perfect logo for your business in less than five minutes.
Get Better Branding Solutions
Try our logo maker for free today. Only pay if your head over heels in love with your new logo